ICE DIVING
Return to: Deep-Six Home Page
Click HERE to Send E-mail to Deep-Six
UNDER-ICE SCUBA DIVING

Because you have achieved the status of Advanced Open Water Diver, you might want to try under-ice scuba diving. If you wish to do 3 under-ice scuba dives in no less than 2 days you could be certified as a PADI Ice Diver. The cost with a dry suit included is $100. You may do only 1 dive if you do not want to be certified. That cost would be $50.00.
Under-ice SCUBA diving cannot take place unless there are a minimum of 2 divers and 1 tender. The tender is not a diver and should be dressed in warm clothing. Also, the ice will be tested on the day before, the weather will be analyzed, and other conditions will be taken into consideration. It is important for you to call Deep-Six on the afternoon before the dive day to find the latest information on the dive, and to let us know you are going.
On the ice dive morning, divers should arrive at the Deep-Six at 1000 hours. If the diver owns a wet suit it should be put on at home. Warm clothing and regular boots should be worn over the wet suit. Divers renting wet suits will donn them over their bathing suits at Deep-Six. The wet suit should be worn until the diver returns home. At that time it should be removed, washed, and dried in a warm environment. Deep-Six wet suits must be returned within 48 hours of the dive to avoid additional charges.
On the morning of the dive each diver should gorge himself or herself at breakfast. The more calories consumed, the more pleasant the dive. Additionally, each diver should bring 2 peanut butter and jelly sandwiches and a hot drink in a Thermos. This is consumed as the hole is being cut and just prior to the dive.
A jug of hot water and sunglasses are also essential. The water is used to warm body parts and/or dumped in the wet suit just before going in, and the sunglasses are to protect the eyes from ultraviolet radiation from the sun and its reflection off the ice.
If you are ice diving just for the experience it is important to have the DSUS WAIVER, MEDICAL STATEMENT, and any other releases signed prior to the dive.
If you are ice diving for certification as a PADI ICE-DIVER you must meet the following requirements prior to the dives:
1. Be at least 18 years old.
2. Be an Advanced Diver.
3. Bring a signed PADI LIABILITY RELEASE, MEDICAL STATEMENT, and a signed DSUS WAIVER.
4. Go on 3 under-ice dives on at least 2 days.
5. Pay $100.00 for the training and the dives (includes equipment). It is $50 per dive if you use a Deep-Six dry suit.
6. Log the dive and have the log signed by the instructor.
7. Purchase the PADI Certification.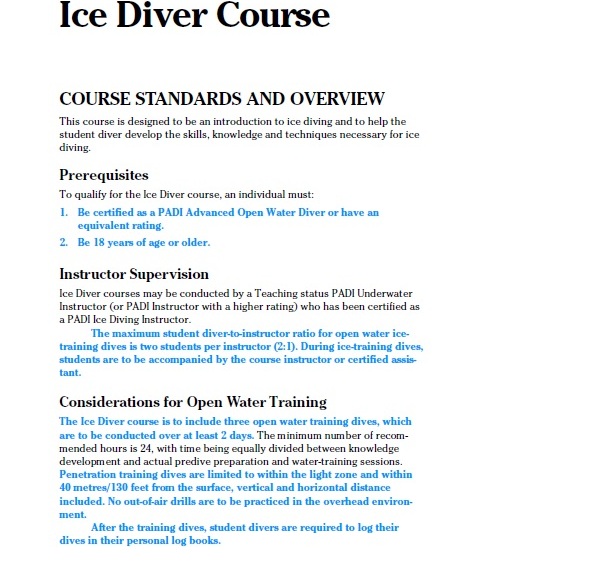 E-MAIL Deep-Six , or call (845-255-7446)