TRIPS
TRAVEL IS FATAL TO PREJUDICE - MARK TWAIN
Return to the Deep-Six Home Page
Click HERE to Send E-mail to Deep-Six
UPDATE: 3/5/19
NUMBER OF TRAVELERS' GOING AS OF THIS DATE: 21 Divers: 15


2019 BONAIRE

1979
Dates: Saturday July 27 to Saturday August 3. 2019
Travel Non-stop from Newark (EWR). Non-Stop from Newart (EWR)7/27 to Bonaire (BON) and return 8/3: $810 pp.
If you are traveling from a non-Newark airport YOU MUST DO THE AIRFARE/TICKETING YOURSELF. You must let Deep-Six know the flight and times to BON so the transfers can be coordinated.
The Divi Flamingo, 8 days, 7 nights. The rooms include a breakfast and scuba for each day. Transfers are included. The following prices are for each person.
A standard room with 1 non-diver: $1061. Diver: $1331.
A standard room with 2 non-divers: $651. Divers: $933.
A standard room with 3 non-divers: $607. Divers: $859.
A standard room with 4 non-divers: $540. Divers: $827.
KIDS: Children 6-15 in any room pays $143.50 each for the week if they are not divers. If they are divers (10-15) they pay $463 for the week.
IF YOU WANT ALL-INCLUSIVE ADD $600 PER PERSON TO THE ABOVE (e.g., a standard room for 2 with 1 diver ($1533) and 1 non-diver ($1251). All in the room must be all-inclusive if any are. The Adult $600 is for ages 13 and older. Children 6-12 are an additional $378. Children under 6 are free.
The scuba package (included above):
5 days of morning 2-tank boat dives.
1 day of afternoon 1-tank boat dive. This is the first day because of the marine park orientation (see below) in the morning.
Tanks for unlimited shore dives for 6 days.
Nitrox upgrade is an additional $130 for the 6 days of diving.
There is a mandatory 0930 marine park orientation on the first day of diving. There is a $45 park fee for each diver and $25 fee for snorkelers.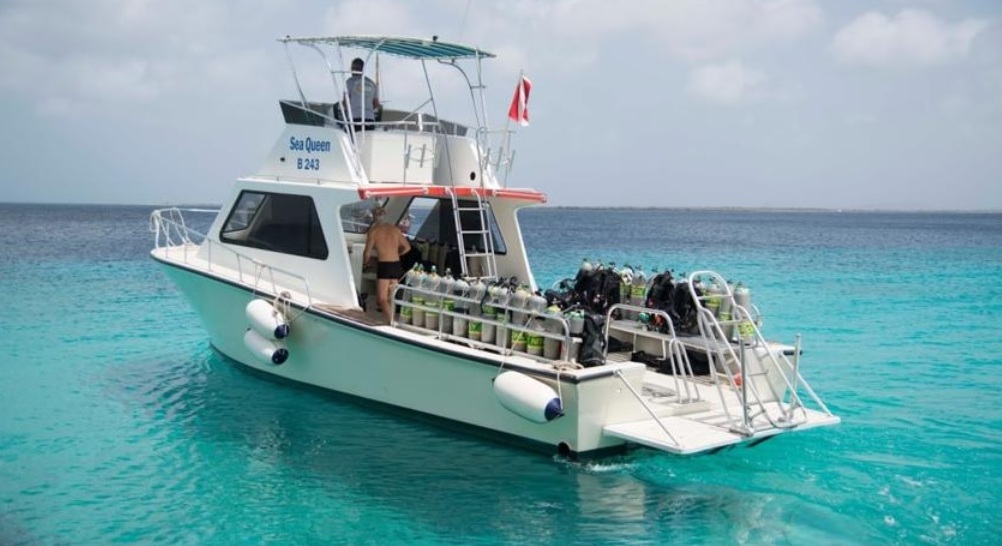 As with all the trips, there is no profit made by Deep-Six or individuals associated with that corporation. Any extra money collected will be returned to all travelers, on a percentage paid-in basis, after the trip is concluded.
CALL 845-255-7446 OR Click HERE to Send E-mail to Deep-Six
SCUBA TRIPS FROM THE PAST:
1968: BERMUDA 1977: FLORIDA KEYS 1978: GRAND CAYMAN 1979: BONAIRE 1980: COZUMEL 1980: RHODE ISLAND 1981: NO TRIP
1982: NEW JERSEY 1982: MAUI, HAWAII 1983: NO TRIP 1984: NO TRIP 1985: ST. CROIX 1986: SOUTH CAROLINA
1987: BAHAMAS - PROVO 1988: ST. EUSTATIUS 1989: CAYMAN BRAC 1990: BELIZE 1991: ROATAN 1992: ST. LUCIA 1993: TORTOLA
1994: CURACAO 1995: DOMINICA 1996: KEY WEST 1997: GINNIE SPRINGS 1998: NO TRIP 1999: TOBAGO 1999: ROCKPORT, MA
2000: LITTLE CAYMAN 2001: GRENADA 2001: AUSTRALIA 2002: TURKS & CAICOS 2003: POMPANO, DISNEY AQUARIUM & KEY WEST, FL
2004: NEVIS 2005: UTILA 2006: SABA & UTAH 2007: ST. THOMAS 2008: NO TRIP 2009: ANTIGUA 2010: EGYPT 2011: BARBADOS
2011: GTMO, CUBA 2012: QUETZEL 2013: DUBAI AND THE MALDIVES 2014: SECRETS IN MONTEGO BAY, JAMAICA 2015: PALAU 2016: FLORIDA & ANGUILLA 2017: FIJI
2018: DOMINICAN REPUBLIC 2019: BONAIRE (40th Anniversary of the 1st trip.)
Click HERE to Send E-mail to Deep-Six
Return to the Deep-Six Home Page